Day TOUR UBUD to LOVINA
Also Departure from KUTA, SIMINYAK, SANUR... or return from LOVINA to South BALI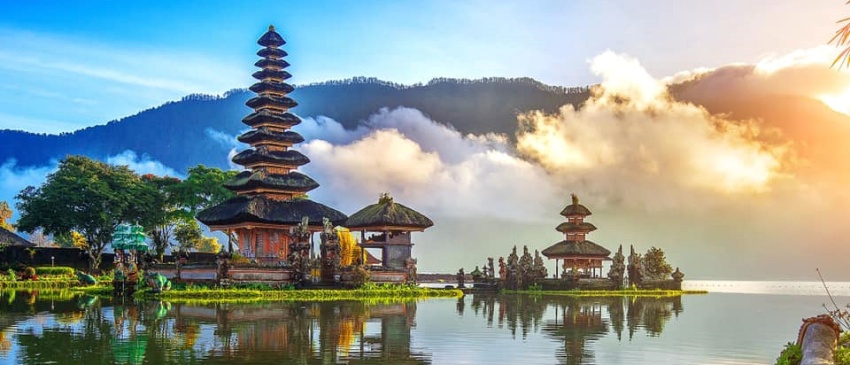 Individual Sightseeing transfer to LOVINA ∙ Gorgeous Spots ∙
Breathtaking Landscape at the Rainforest Mountains
You would like to discover the beautiful North of Bali?  The mostly untouched nature behind the rainforest mountains, a cosy atmosphere as contrast to the touristy and busy South - the authentic Bali? Then Lovina area is a perfect central place for you to stay. 

Lovina is named an area (not a city or village!) on the northern coast of Bali, Buleleng regency. It consists of seven villages west of Singaraja, stretched at about 15 km along the coast line. 
The most charming and bubbly hub, loved by the guests, is Kalibukbuk village, also called "Central Lovina". From here, boats are leaving for dolphin tours in the morning, you find some shopping facilities and also there is some nightlife in the bars and restaurants with fresh fish, cold beer and relaxed live music.
 
Travel times to Lovina are underestimated. The 50 kilometers distance heading through the highlands and take from Ubud around 2.5 to 3 hours, from Kuta/Seminyak during rush hour almost 5 hours.
However, as there is beautiful spots along the routes we recommend to expand the transfer and convert your transfer into a wonderful day tour experience.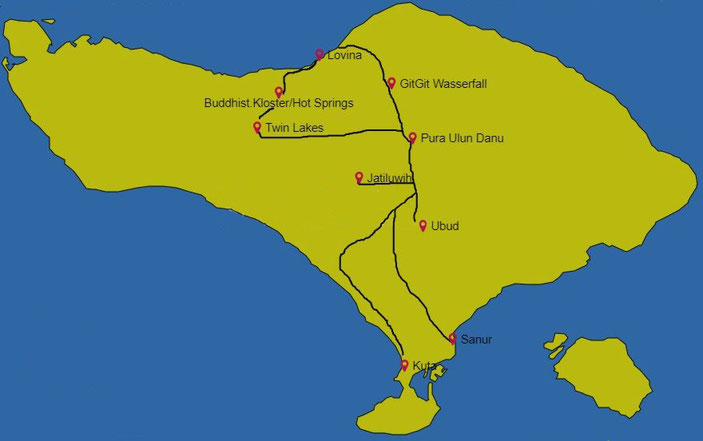 Two possible routes: 
Between Central Bali and the north coast stretches the rainforest mountains that we can track through to Lovina on two different pass roads. We talk about the "GitGit route" or the "Twin Lake route". Brom lake Beratan up north, you can chose from one of these options: 

Collective Spots: Coffee- and Spices plantation in rural area, Jatiluwih rice terrace landscape, Bedugul local market, Pura Ulun Danu, the pittoreske temple in lake Beratan

plus additional spots on
GitGit route

: Monkey Rock, GitGit Waterfall 

(total duration approx. 5,5 hrs from Ubud, 6 hrs from Kuta/Sanur)

or
Twin Lake route a): Twin Lake view, Munduk rice field area, Buddhist Monastery Brahma Vihara, Holy Hot Springs Banjar  

Twin Lake route b): Twin Lake view, Banyumala Waterfall
(both total duration approx. 7-8 hours from Ubud, 8-9 hrs from Kuta/Sanur)
Recommended Spots: 
(click through the gallery to read the descriptions)
___________________________________

Tour price (up to 4 persons):
from Ubud: 750.000 IDR*
from Sanur/Kuta/Seminyak/Canggu: 800.000 IDR*
incl. air con car with English speaking driver/guide, hotel pick up and drop

*plus entrance fees (about 110K IDR per person), lunch
the number of stops can be modified individually, the tour price will be reduced accordingly
(no Jatiluwih = minus 100K IDR)

Direct transfer (no stops) Ubud to Lovina: 500.000 IDR
Direct transfer (no stops) Kuta, Sanur, Canggu to Lovina: 550.000 IDR