Hey foodies, join us for a truly unique experience:
cooking class Lovina with market shopping
IBU DEWI'S private COOKING CLASS
Learn Indonesia's BEST REGIONAL RECIPES at a private hands-on cooking class with a local housewife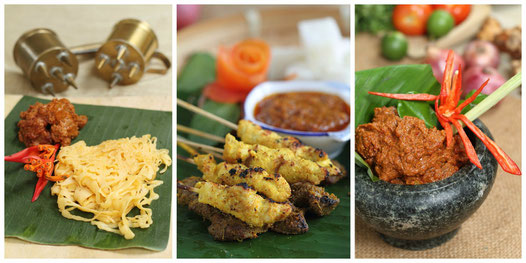 learn to cook in Lovina Bali
◦  half-day classes (lunch or dinner) 
◦  morning class includes shopping at a local market
◦  chose your menu (fish / meat / vegetarian)  
◦  it's only you and Ibu Dewi
learn to cook Indonesian food, unique cooking class on Bali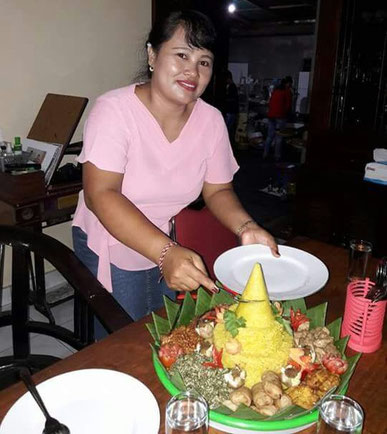 You would like to reveal the secrets of cooking authentic Balinese and Indonesian food?
This is much easier than you think – as one of the characteristics of Southeast Asian food is its simplicity.

You will be surprised how fast you can learn to prepare these tasty, super healthy dishes!
Ibu Dewi, a Balinese housewife and excellent chef invites you to her family home to enjoy a half day cooking class to create your traditional local menu. A unique and authentic experience!
You have two different packages and a variety of dishes to choose from: 
MORNING class – lunch time!
pick up from your hotel
8:00 shopping at the local market and buy fresh ingredients. Explore what is on offer!
9:00 to 11:30  cooking, decorating, 
tasting, chatting at a private Balinese home
30 minutes relaxation break 
12:00  enjoy your self-made lunch
AFTERNOON class – dinner time!
pick up from your hotel
16:00 – 18:30 cooking, chatting, tasting, decorating
30 minutes break for relaxation
19:00 enjoy  your home-made dinner
Ibu Dewi offers to teach a choice of dishes from which you can choose five for cooking in the class. Please note that the specialties may vary according to the season and the availability of the products at the day of the class.


Please let us know if you have special wishes and/or food sensitivities - and we are happy to set up your individual menu accordingly.
Vegetarian  Menu
Please find detailed descriptions of the dishes in the gallery!
Oteh-Oteh (Bakwan, vegetable fritter snack)
Perkedel Jagung (corn fritters)
Mie goreng sayur (fried noodles with vegetables)
Nasi goreng sayur (fried rice with vegetables)
Gado-Gado (mixed steamed vegetables with peanut sauce)
Vegetable curry with fresh coconut sauce
Tempeh manis (fried tempeh with sweet-spicy sauce)
… all served with plain rice …


__________________________________
Meat / Fish Menu
Please find detailed descriptions of the dishes in the gallery!
Mie goreng ayam / ikan (fried noodles with chicken or fish)
Nasi goreng ayam / ikan (fried rice with chicken or fish)
Satay ayam (chicken saté with spicy peanut sauce)
Pepes (fish or chicken with coconut, grilled in banana leafs)
Fish or chicken curry with fresh coconut sauce
Ayam or fish á la Ibu Dewi (chicken or fish with lemon grass)
… all served with plain rice …

As dessert, please choose from 
Bubur Injin (Black Rice Pudding) or
Pisang Goreng (fried banana)
eat with locals in Lovina! 
__________________________________
Plan your food adventure right NOW!
or chat and book with Komang on Whatsapp


Ibu Dewi's cooking class
daily available, classes in English language
morning or afternoon class / vegetarian or meat menu
chose 5 dishes upon your interest
maximum 5 persons
 
Prices:
1 person: 400.000 IDR
from 2 persons: 350.000 per person
including Lovina hotel pickup and drop, all ingredients, mineral water, coffee and tea
Kids up to 10: 50.000 IDR
Cooking class near me and best cooking class on Bali 
---
Here some Guest Feedbacks
Please do NOT post any inquiries here - use the contact form or WhatsApp instead. Thank you!