The ultimate travel guide
From Lovina To Gili Islands
AND LOMBOK
with online ticket booking at the end of this article
fast boat from Lovina to Gili Trawangan, fast boat from Lovina to Gili Air, fast boat Lovina to Lombok
You plan to travel from Lovina to the Gili Islands (Gili Air or Gili Trawangan) or to Lombok?
Here some important facts you should not miss:
 How to go from Lovina to Gili?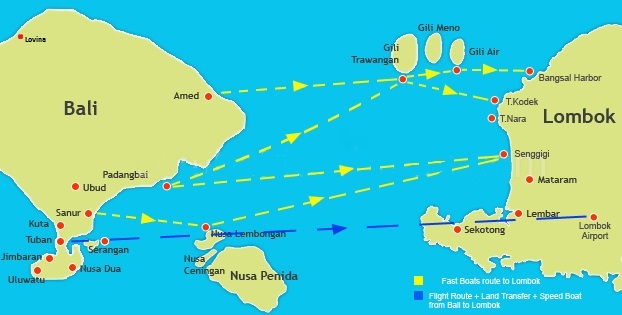 The closest harbor is Amed, about 2,5 to 3 hours drive from Lovina
 
 From Amed harbor, you only have fast boats (no ferry!), Departure to Gili daily at 9:30 am
Route:  Amed – Gili Trawangan  - Gili Air - Bangsal (Lombok) - Amed
The boat takes about 1 hour to Gili T, 80 minutes to Gili Air, 2 hours to Lombok.
       
There is no public transport from Lovina to Amed 

(like Perama)

, hence private transfer is necessary and should be included in the ticket price. 
(Book with Bali Surya Tours Lovina ✅ booking link at the end of this article)
         
Fast boats don't go to Gili Meno! But there are public boats to Gili Meno from both, Gili Trawangan and Gili Air. You can buy tickets directly at the harbors (approx. 30.000 IDR p.p.)
    
You plan to return to Bali after your stay on Gilis or Lombok?  Then better buy a return ticket (possible as open return) because tickets are much more expensive on Gili! 
       
During high season (July - September), make sure to buy your ticket at least 2 days in advance. Off-season also possible one day before. Buying in Bali from a local agent usually is much cheaper than online from the speed boat companies. Make sure the agent is reliable, indicating his email and phone number on his tickets in case you have/like to make later changes.
       
Schedules and Punctuality: Welcome to Southeast Asia, guys! Strict Western timelines don't apply here. Departure times are estimates! 30 to 45 minutes are considered as being "normal" delay. Just assume there is a reason... (mostly the boats waiting for guests being late)
So don't get nervous and go enjoy the time with the other travelers!!
      
The fabulous fact: Your connecting transfers will always be guaranteed as the drivers are not waiting for "Alex at 11 am" but for "Alex from the boat from Gili T". Means, they are waiting until the boat from Gili T arrives - and if it's 3 pm.  
So don't panic or try to call somewhere to inform about the delay.
       
We deeply recommend NOT to go back to Bali at the day of your departure!!! Apart from relatively minor delays talking above it is possible you face tremendous delays due to weather or water conditions! In rare situations, fast boats cannot operate for one or two days - so the operators have to re-direct customers to the Lombok ferry what takes 6 - 7 hours to reach Bali.
Better don't take a risk and spend the last night before your departure flight somewhere in South Bali. 

Want to book your ticket from Lovina to the Gilis or Lombok?

Have a pleasant and safe journey from Lovina to the Gilis and/or Lombok! ♥️