White Water Rafting
at Bali's longest Rafting route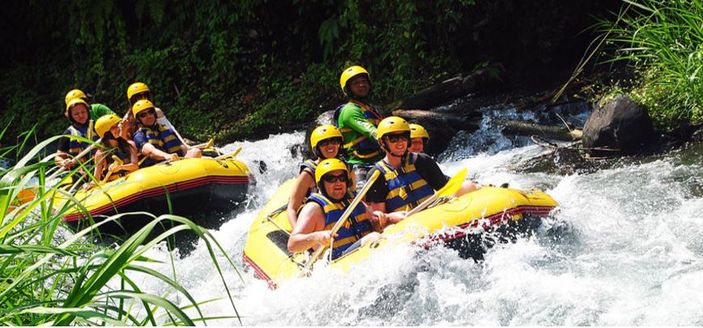 The package includes pick up from your hotel at all main destinations on Bali (Kuta, Seminyak, Sanur, Ubud, Canggu, Padangbai...) at around 9 am - and transfer to the rafting starting point in Rendang. Even the drive is beautiful as landscape in Karangasam is stunning!!

Please bring rafting clothes (swim clothes or dark shorts and t-shirt), water shoes or trekking sandals, a dry change of clothes and some big smiles 😃.
Koffee and Tea is available for you upon arrival. After easy access to the starting point (only 3 minutes walk), you get clear and detailed instructions as well as your safety equipment (life jacket and helmet), a face towel and a waterproof bag for your belongings.  

Now off to the raft with max. 4 people and your certified guide on board. 
Along the 14 kilometers streamline you can enjoy the beautiful panorama of the mountains, rice fields, and stone cliffs. Hence, apart from the thrilling adventure, you'll no doubt be amazed and satisfied in exploring this beautiful place. 

After 2 hours and the final, 4 meters jump down Bajing dam you reach the end point of your rafting experience. Hot water showers, fresh towels and change rooms are waiting for you. A yummy lunch buffet with huge variety is ready for you at the restaurant. During lunch time you have the chance to see your Bali rafting adventures on photo's CD (available to buy for 350K IDR).

After lunch, we'll take you back to your hotel where you arrive around 3 pm. 



All-inclusive-price per person: 350.000 IDR
(incl. transfers, equipment, certified guide, insurance, lunch)
Note: Drinks for lunch are not included. There is a wide range you can chose from 
operator: Alam Amazing Adventures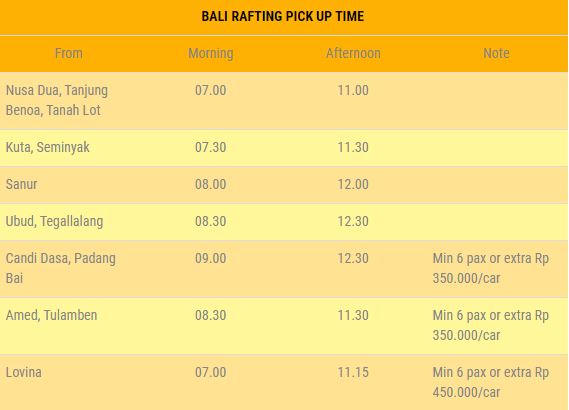 NOTE: Afternoon rafting requires minimum 4 people!