You wonder what to do in Lovina? 
explore more!
Our top 14 Activities to do in Lovina and North Bali
The ultimate Lovina travel guide with ONLINE BOOKING
(booking link at the end of this site)
best things to do in Lovina - listed at the  best Lovina travel guide
Lovina is the perfect destination for those who love to experience traditional culture in peaceful, rural surroundings of the tranquil northern Bali. 
Away from the bubbly and touristy spots of the south, you find here the authentic way of Balinese life, breathtaking landscape and loads of fun activities. 

As North Bali natives, the team of Bali Surya Tours Lovina reveals our TOP 14 highlights you should not miss when visiting Lovina. 
we know what to do in Lovina!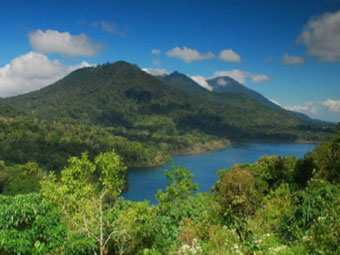 1.  Getting in
The long drive to Lovina is perfect for sightseeing already! The rather long distance from South Bali or Ubud leads through stunning sceneries of rainforest mountains with breathtaking views and interesting stops at temples, waterfalls, a Buddhist monastery or vulcanic hot springs.
Starting from the South, >> three different routes are available heading north;
just perfect to use the arrival day already to explore Central Bali and the first spots at the North. 
---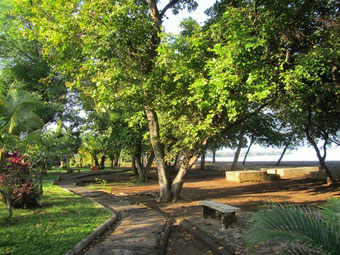 2.  Lovina Beaches
Like almost all beaches at the north, Lovina area offers black sand beaches with easy access to the mellow Bali Sea. You do not find big waves, crushing surf, or strong current here - ideal for relaxing and swimming also for families with younger kids. As all around Bali, make sure you have high tide when planning to swim.

Please consider there is not much infrastructure directly on the beaches in Lovina thus you will not find sunbeds, beach bars or similar. You can buy food and drinks at the local warungs nearby. For us, the most beautiful beach in Central Lovina is cosy Ganesha Beach at the end of Jalan Kartika.
---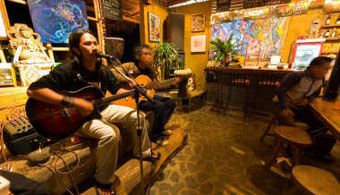 3.  Enjoy live music and fresh fish
All over Central Lovina, a village called Kalibukbuk, there are plenty of possibilities to have great dinner with fresh fish or seafood. In the afternoon, you can see the fisherman coming back with their catch - what immediately ends up on the grill.
Along with some cold beer or local wine and hand made mellow music you can enjoy your time in Central Lovina to the fullest. 
>> Find here more detailed information about Lovina, why it is not a city but definitely worth visiting.  
---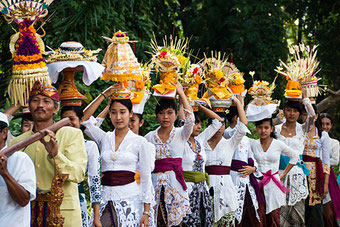 4.  Meet culture and tradition

Balinese culture is shaped by a constant string of prayers, offerings, and ceremonies. Because Lovina area is very laid back and it is easy to connect with the local community, don't be surprised to be invited to a family ceremony. Also the staff in your hotel or restaurant will let you know when some public ceremonies are taking place. Don't be shy and accept these offers - it will be a colorful and memorable experience! You will easily find somebody who speaks good English and who will explain what's going on...
Appropriate clothing (sometimes traditional sarong/sash/udeng) pay respect to your host thus are very recommended.
---
5.  Must see: Sekumpul and Fiji Waterfalls

Sekumpul and Fiji Waterfalls are for sure the most beautiful waterfalls in northern (if not whole) Bali. About one hour east of Lovina and hidden in the rainforest mountains you find untouched nature, stunning views and a picture-perfect idyll. Fully enjoy its peaceful atmosphere, as there is no rush of visitors at all. 

You like to spend an unforgettable time there, stay on top of a 95 meters high waterfall, and have 'the best day of your Bali vacation', as each and every of our guests call it?  Then come join us for our >> Lemukih Waterfall Trekking. Don't miss the guest reviews at the end of the tour description, don't miss to make this amazing experience, and don't miss the best guides ever! 
---
6.  wild Dolphin Tours Lovina
Lovina is famous for its wild dolphins passing the coast every morning. Aboard a traditional fishing boat you have the chance to spend some time with this lovely creatures. Feel the day waking up on our Wild Dolphin Sunrise Tour or take the chance to swim and snorkel with dolphins in open water - an amazing experience!

We know the bad press about the tours, but please read our >> guest reviews to see: We are doing it a little bit different! 
Our captains are very experienced and stay away from the crowd, not chasing or stressing the animals. We guarantee a respectful interaction with 'our' dolphins.
---
+++  Continue reading, the best is yet to come.
And if you like to book one of these adventures: a booking link is waiting for you at the end of this post +++
______________________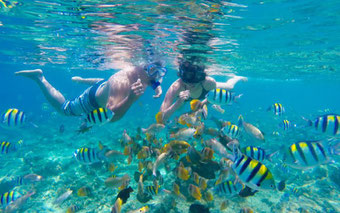 7.  Lovina Snorkeling and Diving

Directly off shore Central Lovina starts stunning Lovina Reef to recover, offering  both, snorkeling and dive spots to discover marine life. Many dive centers are located in the village for those who like to try or improve their skills.

The most beautiful spots in terms of under water diversity are around Menjangan Island at North Bali National Park, about 1.5 hours drive from Lovina. Take the chance to spot sea turtles, clown fish, moray or small black tip reef sharks in crystal-clear 26 degrees warm water!  It is recommended to join a group tour to share costs and catch the good vibes of meeting other travelers.

Best deals for both, Lovina and Menjangan snorkeling, diving and test dive packages are listed at >> The ultimate Lovina snorkeling guide
 
---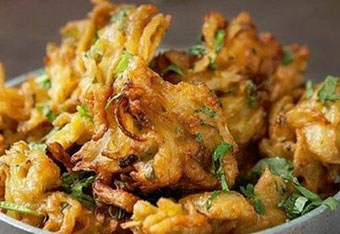 8.  Private cooking class with a local family
You love Indonesian and Balinese food and like to learn about how to prepare it? No problem at all!
Ibu Dewi invites you to her family home for a privat hand-on cooking class. Choose for the morning or afternoon class and prepare a delicious 5 course traditional menu together with Ibu Dewi. It's your choice what dishes to cook, please find a variety in our >> cooking class menu. Before cooking, you go to the local market to find fresh ingredients for your meal. 
An informative and super tasty half-day experience for all foodies!
---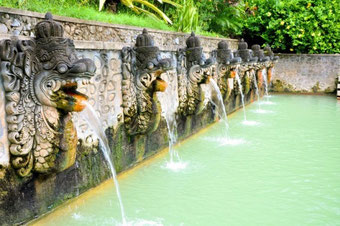 9.  Relax at Holy Hot Springs
A 20 minutes drive away from Central Lovina, the Holy Hot Springs or 'Air Panas' welcome guests in a beautiful tropical garden. The sulfurous water in the three picturesque  basins is of volcanic origin and has a pleasant warm temperature of 35 - 39 degrees Celcius. You will see lots of locals coming here to cure rheumatic or other dis-eases. 
Changing rooms, lockers and a restaurant are available. 
Great to combine a visit at the nearby Buddhist Monastery Brahma Vihara.
---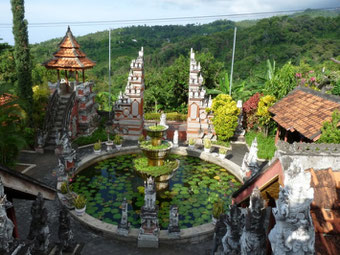 10.  Brahma Vihara Arama (Buddhist Monastery)

An absolute 'must see' or better 'must feel' place nearby Lovina is the only Buddhist monastery on Hindu Bali: Brahma Vihara Arama. Located in the hills of Banjar, about 20 minutes away from Central Lovina and 5 minutes from Holy Hot Springs, this peaceful place invites you to see the prayer rooms, Buddha statues, and beautiful gardens - as well as an impressive mini replica of the world's largest Buddhist archaeological site Borobudur on its upper level. Its meditation areal spreads a very special energy and opens the view far over the hills to the ocean.
---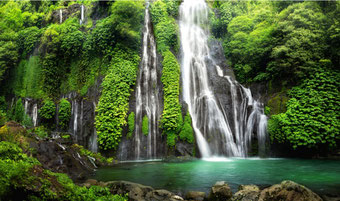 11.  Banyumala Waterfall

Another hidden treasure in untouched nature is Banyumala Waterfall. 
40 minutes away from Lovina, it guarantees spectacular views combined with the sounds of the jungle - and the perfect place for swimming in the natural pool.

Perfect day tour in combination with the Holy Hot Springs in Banjar and the Buddhist Monastery Brahma Vihara Arama, we call it >> Lovina Tour, but also one spot on our sightseeing tour South Bali to Lovina.
---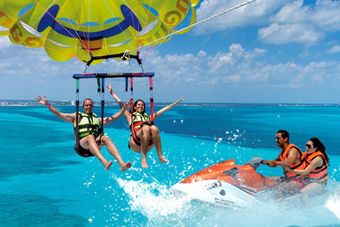 12.  Water and Fun Sports Lovina
Lovina has a separate beach section as a water sports area. The terrain is super nice and well maintained, so you can spend a lovely time here also in between the >> water and fun sports activities. In addition to jet ski, parasailing and banana boat, you also have the opportunity to try out crazy activities such as fly boards or flying fish.

My personal highlight: The climbing wall right by the pool. 😃
We are happy to organize a FREE SHUTTLE to and from your hotel in Lovina. Just spontaneous, no long lead times necessary (30 minutes are sufficient). You find contact details at the end of this post.
---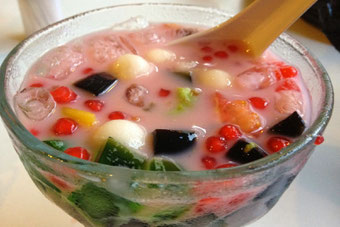 13.   Feasting Es Campur

Es Campur or Es Buah are delicious iced fruits with different kinds of funny fruity gelly, crushed ice, and (mostly) strawberry milk - sometimes topped with chocolate cream. Choose your fruits and definitely ask for Beluluk (fruits of the sugar palm), what is amazing in the mix!

My absolute favorite one in Central Lovina is from Warung Ibu Kadek right next to the pier. 
Enjoy!! Or as we say: Selamat menikmati 😋
---
you wonder what to do in Lovina?  We show you things to do in Lovin, Bali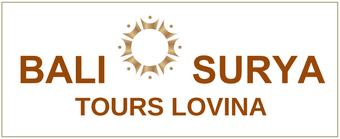 14.  Meet your alltime favourite Tour Operator
Did we make you curious? Or already convinced you to visit the north of Bali? Then we are here with open arms waiting your visit! 😃


Check out our TOURS AND ACTIVITIES OVERVIEW for detailed information, prices and online booking, or drop us a line at any time. 

See you soon here in Lovina!
Om shanti, shanti, shanti 
or chat and book with Komang on Whatsapp:

---
Best things to do in Lovina
some of our Guest's Feedbacks
Please do not place tour inquiries here - use the contact form or WhatsApp instead. Thank you!